Introduction:
NAM Travel (Nam Huong Travel Limited Company) is a Local Tour Operator.
The company was founded in 2013 by a group of close friends who have been working in travel industries since 1999 (as tour guides, inbound operators, inbound sales mangers).
Thank to our friendly and good services, NAM Travel has become a land tours supplier for many travel agents and tour operators all over the world and we are proud to co-operate with our partners to bring happy tours to thousands of travelers visiting Vietnam every year!

Our business:
We focus on B2B (business to business), we build up partnership and support our oversea travel agents to bring the most suitable tours to their customers.

Company profiles:
Company name in English: Nam Huong Travel Limited Company
Vietnamese name: Công Ty TNHH Nam Hương Travel
Foundation date: 22/11/2013
Capital: 1,000,000,000 VND
Staffs in 8/2022: 5 full-time office staffs (excluded collaborators): Mr. Nam (Director), Mrs. Huong (Secretary), Ms. Tam (Sales), Mr. Hung (Operator), Mr. Thai (Operator)

Business license no: 0106372858
Issued date: 22 NOV 2013 by Hanoi Planning & Investment Department (www.hapi.gov.vn)
To view our company licence, please click the link:
https://namtravel.com.vn/our-legal-licences/1214/company-licence
Tax code: 0106372858 issued by Vietnam General Department of Taxation (www.gdt.gov.vn)
Tour Operator License no: 01-1188/2018/ TCDL- GPLHQT
To view our tour operator licence, please click the link:
https://namtravel.com.vn/our-legal-licences/1163/tour-operator-licence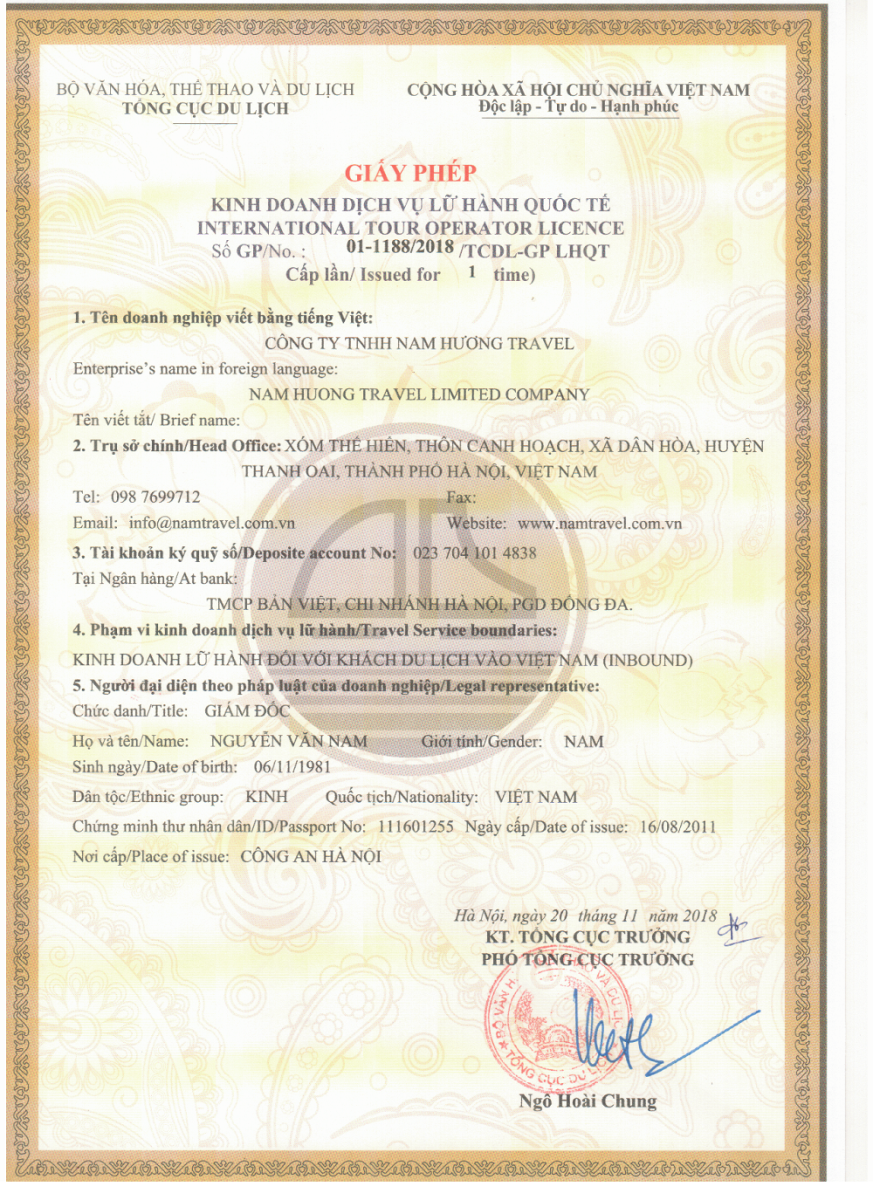 Link of certification on Department of Hanoi Tourism:
https://tourism.hanoi.gov.vn/travel-management/international-tour-operators/cong-ty-tnhh-nam-huong-travel.html
Issued date: 20/11/2018 by Vietnam National Administration of Tourism

Legal representative: Mr. Nguyen Van Nam; Tittle: Director; Nationality: Vietnam
Head Office:
No 1- Lane 3- The Hien- Dan Hoa- Thanh Oai District- Ha Noi- Vietnam
Tel: +84 2462.946.116
Fax: +84 2433.970.103
Email: info@namtravel.com.vn
Website: www.namtravel.com.vn

Company accounts:
NAM HUONG TRAVEL LIMITED COMPANY (Fully name)
USD account: 0011374160400
Bank: Vietcombank- Operation Center
Bank Address: 31-33 Ngo Quyen Street, Hoan Kiem District, Ha Noi, Vietnam
Swift Code: BFTVVNVX001

Our tours in Vietnam:
- Cruises
- Customized Tours
- Muslim Tours
- Classic Tours
- Special Interest Tours
- Family Travel
- Romance Holidays
- Luxury Adventures

Why you should co-operate with us:
- We are licensed company for Vietnam Tour Operator (Guaranteed by Vietnam Tourism Department)
- We carefully arrange tours transfer with well trained and friendly drivers
- We have very friendly and well trained team of guides (English, French, Chinese, Japanese, German... speaking)
- We have good partnership with high quality restaurants, hotels, airlines…
- We have inspected hotels, restaurants, cruises... before offering to clients
- We do the most flexible things and take- care our clients during the trips to make sure our clients feel happy and comfortable from the beginning to the end of the trip
- Last but very important, we commit to offer the most competitive prices
THANK YOU VERY MUCH FOR YOUR VIEWING OUR COMPANY INFORMATION!
WE WISH TO WELCOME YOU TO VIETNAM!